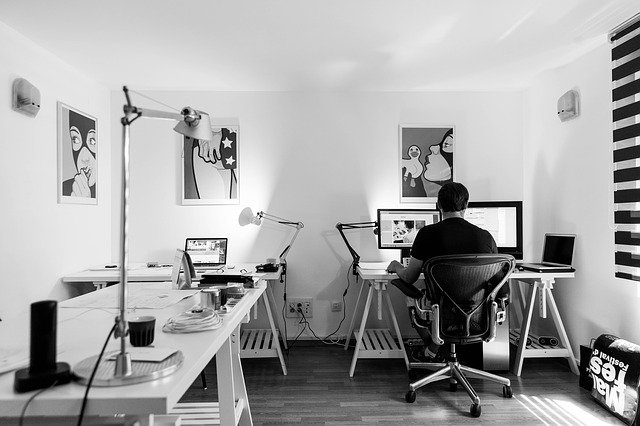 Many companies are now allowing employees to work from home, and experts say it will most likely continue through 2020 and beyond. Employers are seeing that they can reduce operating costs by having all or some of their employees work from home. Whether you own a home business, work from home full time, or occasionally work at home, you can benefit from optimizing your workspace for increased productivity using these tips.
Select a Dedicated Area. Your office should be in a quiet area that allows you some privacy. This is especially important if you share the house with a spouse, children, or roommates.
Less May Be More. Minimalism is hugely popular in home office setups. Eliminate desk clutter and use a neutral color palette for the furniture and walls. Keep décor simple but tasteful.
Make Your Space Yours. Create a desk and/or designated space that is much like your office at your business. You can use plants and proper lighting to create a relaxed atmosphere.
Add Privacy. If you do not have a dedicated office room, consider adding a privacy divider to your home office setup. You can get traditional dividers that sit on the floor.
Furniture. Home office furniture should complement other rooms in your house instead of screaming "soulless cubicle."
Lighting. Natural lighting from the sun gives you energy and increases creativity. If possible, we recommend placing your desk as close as possible to natural light. Desk lamps and stand-alone floor lamps make it easy to adjust the amount of light in specific parts of the room.
Chair. Use as good, comfortable ergonomic chair.
Keep Things Organized. The key to setting up a functional home office is to add plenty of storage space. Wall shelving and cabinets are a must-have for binders or books you need to keep handy.
Your Kitchen Is for Eating, Not for Working! Sitting at your kitchen counter may cause your brain to think of food more often because it is programmed to do such things when you are sitting on that bar stool.
Modify as Needed. Don't be afraid to change things up if they are not working for you.
We are committed to providing our clients with the highest quality insurance plans available, combined with some of the lowest possible rates. Whether you are shopping for auto insurance, home insurance, life, or business insurance, we can help you obtain the best coverage available with the lowest rate possible.

We truly value the long term relationships with our clients, and are proud to give families, individuals, and businesses the personal attention required when it matters most. When claims arise, we realize that it can be very stressful and we will do everything possible to assure timely and complete recovery.